Episode 135: Manifestation
Considering RSP manifested the Toronto Defiant signing Twilight, the crew try to manifest a few more deals.
1 year ago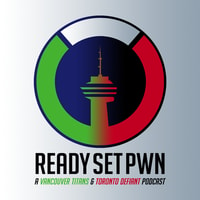 After extensive discussion last week about the potential of Twilight joining the Toronto Defiant became reality, Chris, Omni & Jordan share a few more names they'd like to see headed to the Six! They also wonder what's going on with the Vancouver Titans these days, whether "leak culture" is good or bad, and which roster moves continue to surprise & impress.
A huge shout-out to Burn7 on Soundcloud for the awesome track, Heroes Never Die Music used under a Creative Commons licence.
This podcast is powered by Pinecast. Try Pinecast for free, forever, no credit card required. If you decide to upgrade, use coupon code r-d07915 for 40% off for 4 months, and support Ready Set Pwn.