Episode 150: Lyteforce Left Out
Toronto's getting a live event, the Overwatch 2 Beta is live, and Chris didn't get in.
11 months ago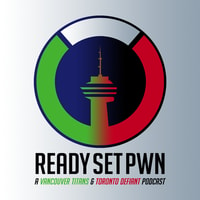 The big news of the week, in one where the Overwatch 2 Beta went live, is the Summer Showdown live event being hosted by the Toronto Defiant. And with the season just over a week away, the crew provide all the updates on what to expect from both the Defiant and Vancouver Titans. As for the Ovewatch 2 Beta, both Omni & Jordan got in so they make sure Chris feels like the scrub they suggest he is.
A huge shout-out to Burn7 on Soundcloud for the awesome track, Heroes Never Die Music used under a Creative Commons licence.
This podcast is powered by Pinecast. Try Pinecast for free, forever, no credit card required. If you decide to upgrade, use coupon code r-d07915 for 40% off for 4 months, and support Ready Set Pwn.