Episode 147: With Apologies to AVRL
After apologizing to AVRL, the crew provide a few Titans & Defiant updates before helping Blizzard with OW2 hero reworks.
11 months ago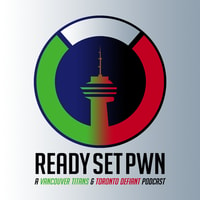 News broke just before the episode from the Toronto Defiant that paperwork issues would likely result in them kicking off the season without Although in Toronto. Chris, Omni & Jordan discuss how this might impact the team in a season of high expectations. After a couple short updates on the Defiant & Vancouver Titans, the crew also get into the suprising retirement of Super from the San Francisco Shock before providing the Blizzard development team with create ideas to rework support heroes in the world of Overwatch 2.
A huge shout-out to Burn7 on Soundcloud for the awesome track, Heroes Never Die Music used under a Creative Commons licence.
This podcast is powered by Pinecast. Try Pinecast for free, forever, no credit card required. If you decide to upgrade, use coupon code r-d07915 for 40% off for 4 months, and support Ready Set Pwn.