Episode 76: A Close Sweep
The Defiant beat the Titans 3-0, in what Omni defined as a "close sweep."
2 years ago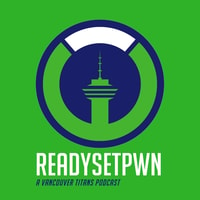 Chris and co-hosts Omni (@OmniStrife) & Sam (@anothersamchan) recap the Vancouver Titans 3-0 loss to the Toronto Defiant, before diving into a short preview on what they expect from the Titans this weekend against the Dallas Fuel. The crew are also joined by Emerald Gao, Associate Editor for the Overwatch League, to talk about about how she tells the stories from the game play we get to view.
A huge shout-out to Burn7 on Soundcloud for the awesome track, Heroes Never Die Music used under a Creative Commons licence.
This podcast is powered by Pinecast. Try Pinecast for free, forever, no credit card required. If you decide to upgrade, use coupon code r-d07915 for 40% off for 4 months, and support Ready Set Pwn.