Episode 101: Sad Reacts Only
The Titans have a roster, the New Year is upon us, and big podcast news is shared off the top.
2 years ago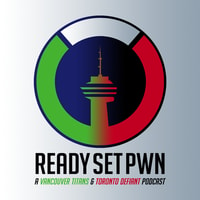 It's the dawn of a new calendar year with Chris and co-hosts Omni & Sam kick off the episode sharing some big podcast news, before breaking down what's been going on in the world of the Vancouver Titans, the Toronto Defiant and the rest of the Overwatch League in the past few weeks.
A huge shout-out to Burn7 on Soundcloud for the awesome track, Heroes Never Die Music used under a Creative Commons licence.
This podcast is powered by Pinecast. Try Pinecast for free, forever, no credit card required. If you decide to upgrade, use coupon code r-d07915 for 40% off for 4 months, and support Ready Set Pwn.