Episode 129: C'est Fini
Omni & Jordan recap the playoff play-ins performance of the Toronto Defiant.
1 year ago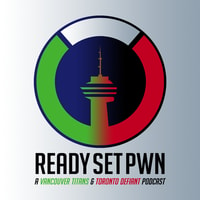 Jordan is back with Omni to recap the Overwatch League Playoff Play-ins performance of the Toronto Defiant, as well as how the rest of the playoff play-in teams performed. The two also share their thoughts on news of the 2022 season and what it will mean for the league to play an early version of Overwatch 2.
A huge shout-out to Burn7 on Soundcloud for the awesome track, Heroes Never Die Music used under a Creative Commons licence.
This podcast is powered by Pinecast. Try Pinecast for free, forever, no credit card required. If you decide to upgrade, use coupon code r-d07915 for 40% off for 4 months, and support Ready Set Pwn.