Episode 142: The Pivot
HUGE NEWS with the announcement of Microsoft acquiring Activistion Blizzard!
1 year ago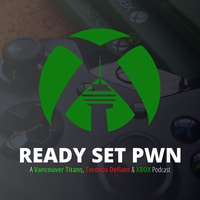 Breaking with the tradition of podcast lore, the news that Microsoft is aquiring Activision Blizzard sent shockwaves through the Overwatch (and podcast) scene. Chris, Omni & Jordan share what it means for the future of the show, and what they think could happen to the Overwatch League, Overwatch, and everything else under the ATVI banner. Plus the Vancouver Titans signed a couple more players in the past two weeks and have suggested they'll sign another.
A huge shout-out to Burn7 on Soundcloud for the awesome track, Heroes Never Die Music used under a Creative Commons licence.
This podcast is powered by Pinecast. Try Pinecast for free, forever, no credit card required. If you decide to upgrade, use coupon code r-d07915 for 40% off for 4 months, and support Ready Set Pwn.