Episode 96: 1up For Extra Life
It's the episode before Extra Life Game Day. Can we rely on your support to raise money for sick & injured kids?
2 years ago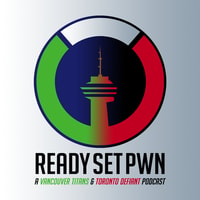 Chris and co-host Omni set up Extra Life Game Day - this Saturday, November 7 - as Team RSP looks to raise over $1500 for Children's Miracle Network Hospitals in Canada & the US. They also discuss Adam Adamou, Co-owner of the Toronto Defiant, joining friends of the show CA Overwatch and what they took from his interview, continued changes in the Overwatch League, and what's going on in Paris.
A huge shout-out to Burn7 on Soundcloud for the awesome track, Heroes Never Die Music used under a Creative Commons license.
This podcast is powered by Pinecast. Try Pinecast for free, forever, no credit card required. If you decide to upgrade, use coupon code r-d07915 for 40% off for 4 months, and support Ready Set Pwn.