An Afternoon with Adam
Overactive Media's Adam Adamou joins the RSP crew to chat about the Toronto Defiant.
1 year ago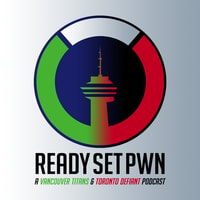 Adam Adamou - Co-founder, Chief Strategy Officer, and Head of Esports for Overactive Media - joins Chris, Omni, & Jordan to reflect on the past three seasons for the Toronto Defiant. He also talks about the formation of the roster for the 2022 season, whether or not Toronto will be in the mix for a live Overwatch League event, when Overwatch 2 will launch, and maybe a little more juice that you'll have to listen to the episode for.
A huge shout-out to Burn7 on Soundcloud for the awesome track, Heroes Never Die Music used under a Creative Commons licence.
This podcast is powered by Pinecast. Try Pinecast for free, forever, no credit card required. If you decide to upgrade, use coupon code r-d07915 for 40% off for 4 months, and support Ready Set Pwn.