Episode 168: e-Fatigue
The Defiant are in, the Titans are close, and the Summer Showdown approaches!
6 months ago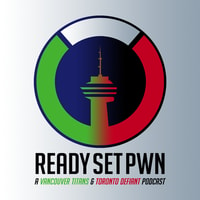 With the Toronto Defiant clinched and the Vancouver titans close, Omni & Jordan share a little bit of their excitement at how Canadian the Overwatch League Summer Showdown will be up here in Canada. They also recap the shift in leadership with the Titans, the impact it's had on the Boston Uprising, and the usual thoughts on Pick'ems!
A huge shout-out to Burn7 on Soundcloud for the awesome track, Heroes Never Die Music used under a Creative Commons licence.
This podcast is powered by Pinecast. Try Pinecast for free, forever, no credit card required. If you decide to upgrade, use coupon code r-d07915 for 40% off for 4 months, and support Ready Set Pwn.