Episode 165: Breadsticks, Baguettes, and Bagels
The crew discuss the Battle of Canada, as well as the strength of schedule for the Defiant & Titans.
7 months ago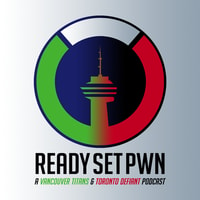 To help kick off the Overwatch League Summer Showdown qualifiers is the Battle of Canada, the first of two meetings between the Toronto Defiant & Vancouver Titans. Chris, Omni & Jordan share who they think takes the first round of the Maple Syrup cup, before they dive into which of the two Canadian teams has the best chance to show for the Summer Showdown - you might be surprised. Add in all the usual league chatter & all the updates to Overwatch and Overwatch 2.
A huge shout-out to Burn7 on Soundcloud for the awesome track, Heroes Never Die Music used under a Creative Commons licence.
This podcast is powered by Pinecast. Try Pinecast for free, forever, no credit card required. If you decide to upgrade, use coupon code r-d07915 for 40% off for 4 months, and support Ready Set Pwn.