Episode 131: Purple Haze
The Overwatch League playoffs start tonight, so Chris & Omni got together a day early to set it all up.
1 year ago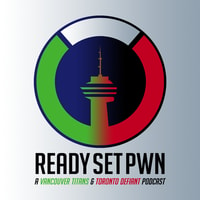 With the 2021 Overwatch League Playoffs getting underway tonight, Chris and Omni get together a day early to set everything up and let you know who they think will be crowned Grand Finals Champion. They also chat about expectations for the Overwatch 2 reveal on Saturday, and with news on 2022 Overwatch League key dates give a few quick thoughts on what the Toronto Defiant & Vancouver Titans will be up to.
A huge shout-out to Burn7 on Soundcloud for the awesome track, Heroes Never Die Music used under a Creative Commons licence.
This podcast is powered by Pinecast. Try Pinecast for free, forever, no credit card required. If you decide to upgrade, use coupon code r-d07915 for 40% off for 4 months, and support Ready Set Pwn.