Episode 187: A Conversation with Barroi
Dennis "Barroi" Matz joins Chris & Jordan to talk about the upcoming Vancouver Titans season.
27 days ago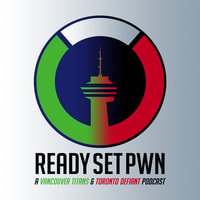 Vancouver Titans General Manager Dennis "Barroi" Matz joins Chris and Jordan to chat about his experience with Vancouver so far, what his approach to the offseason & 2023 is, whether to expect a sixth player to be signed any time soon, and a whole lot more!
A huge shout-out to Burn7 on Soundcloud for the awesome track, Heroes Never Die Music used under a Creative Commons licence.
This podcast is powered by Pinecast. Try Pinecast for free, forever, no credit card required. If you decide to upgrade, use coupon code r-d07915 for 40% off for 4 months, and support Ready Set Pwn.