Episode 8: Jersey City
The Vancouver Titans jersey has been revealed!
4 years ago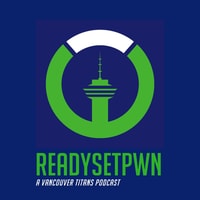 Episode Notes
Hosted by Chris (@lyteforce), the eighth episode of the Ready Set Pwn podcast has finally hit the internet.
Outline
Joining Chris to talk about the Vancouver Titans is co-host Omni (@OmniStrife). The only Titans news to talk about is the jersey, as it has trickled out through official channels, yet discussion on what's holding the org up from sharing even more than that hits the airwaves. They also discuss PTR, the possible new meta, and everything else they can think of.
A huge shout-out to Burn7 on Soundcloud for the awesome track, Heroes Never Die Music used under a Creative Commons licence.
This podcast is powered by Pinecast. Try Pinecast for free, forever, no credit card required. If you decide to upgrade, use coupon code r-d07915 for 40% off for 4 months, and support Ready Set Pwn.