Summer Showdown Bonus - Day 2
The Toronto Defiant won, the Vancouver Titans lost, and LemonKiwi joins Chris & Jordan too!
6 months ago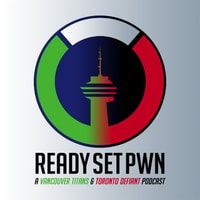 With Day 2 action of the Overwatch League Summer Showdown complete, the Vancouver Titans and Toronto Defiant do the opposite of what Chris and Jordan predicted. The Titans found a way to convincingly lose to Florida, the Defiant discovered a way to convincingly beat Washington, and Heesu proves that Ashe is a viable pick. Plus LemonKiwi joins the pair to chat about the tourney and share a few of her thoughts on the two Canadian teams.
A huge shout-out to Burn7 on Soundcloud for the awesome track, Heroes Never Die Music used under a Creative Commons licence.
This podcast is powered by Pinecast. Try Pinecast for free, forever, no credit card required. If you decide to upgrade, use coupon code r-d07915 for 40% off for 4 months, and support Ready Set Pwn.