Episode 155: Proper Hanjo
The Toronto Defiant win, the Vancouver Titans lose, and there's tables being flipped everywhere.
9 months ago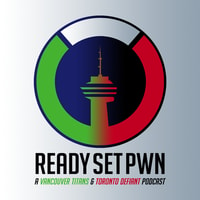 The qualifications for the Overwatch League 2022 Kickoff Clash are complete. Despite rumours of team strife breaking late last week, the Toronto Defiant are in. The Vancouver Titans, strife or not strife, are not. Chris, Omni & Jordan react to the news there is trouble in the Six, wonder what the Titans need to do to turn things around, and get ready for a weekend of double knockout Overwatch League action.
A huge shout-out to Burn7 on Soundcloud for the awesome track, Heroes Never Die Music used under a Creative Commons licence.
This podcast is powered by Pinecast. Try Pinecast for free, forever, no credit card required. If you decide to upgrade, use coupon code r-d07915 for 40% off for 4 months, and support Ready Set Pwn.