Episode 193: Omni the Prognosticator
Omni apparently has the OWL script in hands, the Titans get a win, and the Defiant almost get one too.
24 days ago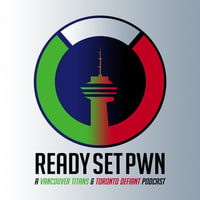 With the first weekend of the 2023 Overwatch Season complete, the Toronto Defiant find themselves winless while the Vancouver Titans went .500 on the weekend. Yet the biggest surprise has to be Omni's possesion of the OWL script, as he finds himself THIRD WORLDWIDE in the Pick'ems standings!! He, Chris & Jordan react to everything they saw and set up the week that will be.
A huge shout-out to Burn7 on Soundcloud for the awesome track, Heroes Never Die Music used under a Creative Commons licence.
This podcast is powered by Pinecast. Try Pinecast for free, forever, no credit card required. If you decide to upgrade, use coupon code r-d07915 for 40% off for 4 months, and support Ready Set Pwn.