Episode 164: Adlib
It's the quite time in the middle of an Overwatch League season. So.. what to do? Adlib.
7 months ago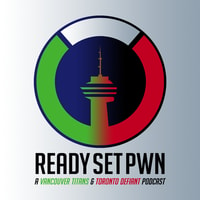 Seeing as Omni & Jordan already discussed everything there was to know about the Vancouver Titans "official" new addition, Chris joins the pair just to share a few of his own thoughts on what's next and what's coming up. They also chat about the return of Moira's purple ball of suck, monetization, and bad jokes.
A huge shout-out to Burn7 on Soundcloud for the awesome track, Heroes Never Die Music used under a Creative Commons licence.
This podcast is powered by Pinecast. Try Pinecast for free, forever, no credit card required. If you decide to upgrade, use coupon code r-d07915 for 40% off for 4 months, and support Ready Set Pwn.