Episode 176: Played In
The Toronto Defiant have booked their ticket to Anaheim & found themselves playoff bound.
5 months ago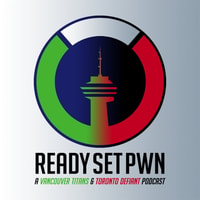 There's the easy way and there's the hard way. The Toronto Defiant chose both ways over the course of the weekend, yet thankfully chose the easy way one time greater than the hard way. Chris, Omni & Jordan recap the three matches the Defiant played this past weekend and wonder how they stack up against the rest of the Overwatch League playoff competition.
A huge shout-out to Burn7 on Soundcloud for the awesome track, Heroes Never Die Music used under a Creative Commons licence.
This podcast is powered by Pinecast. Try Pinecast for free, forever, no credit card required. If you decide to upgrade, use coupon code r-d07915 for 40% off for 4 months, and support Ready Set Pwn.