An Afternoon with Sean
Sean Miller, Head of the Overwatch League, sits down to talk shop with the RSP crew.
10 months ago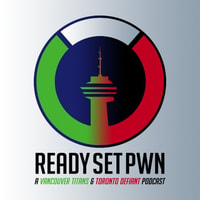 Sean Miller, Head of the Overwatch League, swings by to chat with Chris, Omni, and Jordan.
In a pretty casual conversation, they talk about Sean's journey from finance to esports, about his expectations for the fifth season of Overwatch League action, and how manages the various stakeholders that have "skin in the game." He also addresses what the league does to support players' health & well-being, and how the league is looking to set an example when it comes to player conduct.
A huge shout-out to Burn7 on Soundcloud for the awesome track, Heroes Never Die Music used under a Creative Commons licence.
This podcast is powered by Pinecast. Try Pinecast for free, forever, no credit card required. If you decide to upgrade, use coupon code r-d07915 for 40% off for 4 months, and support Ready Set Pwn.