Episode 12: Inaugural Victory
The Vancouver Titans get their first win, are the only team to win every round in week one, and Bumper is confident AF. The world is good.
4 years ago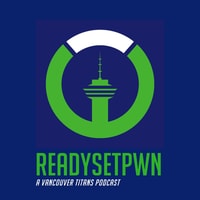 Episode Notes
Hosted by Chris (@lyteforce), the twelfth episode of the Ready Set Pwn podcast has finally hit the internet.
Outline
Joining Chris to talk about the Vancouver Titans inaugural victory are co-hosts Omni (@OmniStrife) & Sam (@anothersamchan). They break down the Titans win over the Shanghai Dragons, Bumpers confidence, Titans Viewing Parties and so much more! Plus they review the rest of week one to setup what we should expect in week two!
A huge shout-out to Burn7 on Soundcloud for the awesome track, Heroes Never Die Music used under a Creative Commons licence.
This podcast is powered by Pinecast. Try Pinecast for free, forever, no credit card required. If you decide to upgrade, use coupon code r-d07915 for 40% off for 4 months, and support Ready Set Pwn.