Episode 182: Things Exist
It's the last episode of the year and the only thing we know - the Defiant, the Titans, and the League... exist.
5 months ago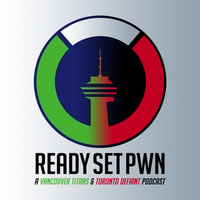 With the new & improved (and absolutely not confirmed) free agent signing window soon to open (or not), Chris, Omni & Jordan discuss how the only thing they know for certain is the Toronto Defiant & Vancouver Titans still exist. Oh... the Overwatch League does too. They also talk skins, the Overwatch economy, how much they continue to play the titles and end the show with some seriously bad puns & Dad jokes.
A huge shout-out to Burn7 on Soundcloud for the awesome track, Heroes Never Die Music used under a Creative Commons licence.
This podcast is powered by Pinecast. Try Pinecast for free, forever, no credit card required. If you decide to upgrade, use coupon code r-d07915 for 40% off for 4 months, and support Ready Set Pwn.