Episode 125: Breadsticks are Cake
The Toronto Defiant win two, the Vancouver Titans finally win one, and Breadsticks Bingo has been obtained (maybe).
1 year ago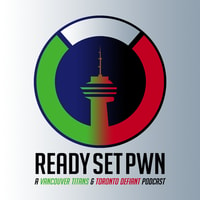 Chris and co-host Omni witnessed what was thought to be impossible - a win by the Vancouver Titans. They also witnessed the Toronto Defiant set themselves up for playoff playins action, with the potential of going all the way into the playoffs with the weekend to come. And breadsticks have been achieved - so long as you understand they are as real as cake.
A huge shout-out to Burn7 on Soundcloud for the awesome track, Heroes Never Die Music used under a Creative Commons licence.
This podcast is powered by Pinecast. Try Pinecast for free, forever, no credit card required. If you decide to upgrade, use coupon code r-d07915 for 40% off for 4 months, and support Ready Set Pwn.