Episode 11: The Podcast Before
We're days away from the launch of season 2 of the Overwatch League. Got hype?
4 years ago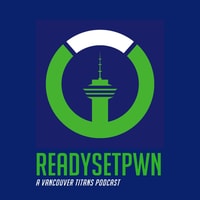 Episode Notes
Hosted by Chris (@lyteforce), the eleventh episode of the Ready Set Pwn podcast has finally hit the internet.
Outline
Joining Chris to talk about the Vancouver Titans is co-host Omni (@OmniStrife) & guest from the Official Titans Discord and Reddit, (@TimberFlynn). They share details about the official Titans viewing party AND the Rain City Runners viewing party - so much party. Plus they break down the Community Countdown, the OWL merch mishaps, and so much more!
A huge shout-out to Burn7 on Soundcloud for the awesome track, Heroes Never Die Music used under a Creative Commons licence.
This podcast is powered by Pinecast. Try Pinecast for free, forever, no credit card required. If you decide to upgrade, use coupon code r-d07915 for 40% off for 4 months, and support Ready Set Pwn.