Episode 170: We Bit Off More Than We Could Chew
The boys are back together after a great weekend of Overwatch League action with a little something extra.
6 months ago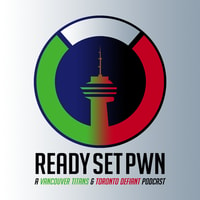 With a couple days of relfection since a great weekend of Overwatch League action, Chris, Omni and Jordan share a few extra thoughts on what they witnessed take place in Toronto. And with "leaks" of a supposed patch that tunes Junker Queen, the crew wonder if we'll see any real change to the meta going into the Countdown Cup. Wrapping up the episode is an interivew with Lucas Annunziata (Senior Environment Artist II) and Paul Warzecha (Lead Character Outsource Supervisor) to discuss New Queen Street and Sojourn.
A huge shout-out to Burn7 on Soundcloud for the awesome track, Heroes Never Die Music used under a Creative Commons licence.
This podcast is powered by Pinecast. Try Pinecast for free, forever, no credit card required. If you decide to upgrade, use coupon code r-d07915 for 40% off for 4 months, and support Ready Set Pwn.