Episode 185: Secrets Out in The Six
The Toronto Defiant roster has been revealed! Huzzah!
1 month ago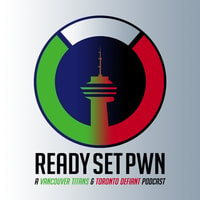 The greatest OWL secret of all-time has been revealed, as the Toronto Defiant have announced their 2023 roster. Chris, Omni & Jordan wonder if it will be good enough to raise the Defiant from the role of gatekeepers. And while there remains little news of what the 2023 Overwatch League season will look like, that doesn't stop the crew from speculating based on what little is already out there.
A huge shout-out to Burn7 on Soundcloud for the awesome track, Heroes Never Die Music used under a Creative Commons licence.
This podcast is powered by Pinecast. Try Pinecast for free, forever, no credit card required. If you decide to upgrade, use coupon code r-d07915 for 40% off for 4 months, and support Ready Set Pwn.