Episode 183: Salty AF
Overwatch League free agency actually started & the Titans got going early.
4 months ago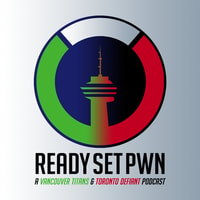 Contrary to what Chris, Omni & Jordan told you was going to happen last episode, Overwatch League free agency got underway like they promised and a number of teams got in early - including the Vancouver Titans. And while the roster is shaping up to be better than the one's we've seen over the past few seasons, Omni goes on a rant about what was possible and what actually came to be.
A huge shout-out to Burn7 on Soundcloud for the awesome track, Heroes Never Die Music used under a Creative Commons licence.
This podcast is powered by Pinecast. Try Pinecast for free, forever, no credit card required. If you decide to upgrade, use coupon code r-d07915 for 40% off for 4 months, and support Ready Set Pwn.