Episode 159: Deep Pockets
Something is right in The Six, the Titans continue to improve, and deep pockets get you StarCraft Brig.
8 months ago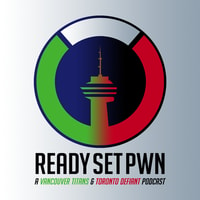 Last week we were concerned about Toronto. This week, not as much. Kind of like how the Defiant play week over week. And with the Vancouver Titans continuing to improve, could they have a shot against the Shock?! Chris, Omni & Jordan speculate - because that's what they do best - about the Overwatch League, Midseason Madness, Overwatch 2 and why the promo to get the Brig skin could be what we should get used to!
A huge shout-out to Burn7 on Soundcloud for the awesome track, Heroes Never Die Music used under a Creative Commons licence.
This podcast is powered by Pinecast. Try Pinecast for free, forever, no credit card required. If you decide to upgrade, use coupon code r-d07915 for 40% off for 4 months, and support Ready Set Pwn.