Summer Showdown Bonus - Day 1
Chris & Jordan recap the first day of the Summer Showdown tournament in Toronto.
6 months ago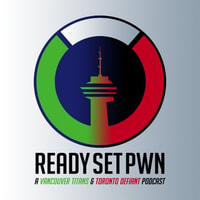 The first day of the Overwatch League Summer Showdown regional tourament in Toronto is in the books. Having watched the entire day from afar, Chris and Jordan share their thoughts on the performances from the two Canadian teams, how they feel the Toronto Defiant & Vancouver Titans will fare against their next opponents, and have clips from Hadi, SparkR & Coluge sharing a few of their thoughts too.
A huge shout-out to Burn7 on Soundcloud for the awesome track, Heroes Never Die Music used under a Creative Commons licence.
This podcast is powered by Pinecast. Try Pinecast for free, forever, no credit card required. If you decide to upgrade, use coupon code r-d07915 for 40% off for 4 months, and support Ready Set Pwn.