Episode 195: PvE Out
The Defiant & Titans are back in action. However PvE in Overwatch 2 is not.
10 days ago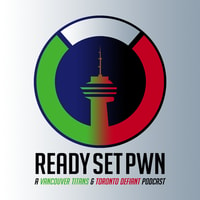 The Toronto Defiant find themselves in must-win territory, while the Vancouver Titans are riding the high and find themselves in the driver's seat. Chris, Omni & Jordan set up the weekend of Overwatch League action and have some bold predictions lined up. The crew also react to the news that PvE as we expected it in Overwatch 2 is a dead dream, and the cadence to which we should expect content in the live-service game is also changing too.
A huge shout-out to Burn7 on Soundcloud for the awesome track, Heroes Never Die Music used under a Creative Commons licence.
This podcast is powered by Pinecast. Try Pinecast for free, forever, no credit card required. If you decide to upgrade, use coupon code r-d07915 for 40% off for 4 months, and support Ready Set Pwn.