Episode 89: Bandwagons & Curses
The Justice went for a good run until the Ready Set Bandwagon Curse struck.
2 years ago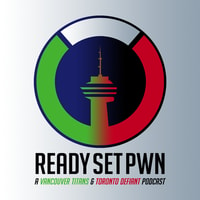 Chris and co-hosts Omni & Sam share their thoughts on the Toronto Defiant releasing interim Head Coach Lilbow last week, the results of the Titans Takedown tournament, and announce their plans for Extra Life 2020 and what Team RSP will be up to! Add in coverage of the Overwatch League playoffs and how they cursed the Washington Justice, and you have yourself a fantastic hour of top notch podcast content!
A huge shout-out to Burn7 on Soundcloud for the awesome track, Heroes Never Die Music used under a Creative Commons licence.
This podcast is powered by Pinecast. Try Pinecast for free, forever, no credit card required. If you decide to upgrade, use coupon code r-d07915 for 40% off for 4 months, and support Ready Set Pwn.