Episode 174: When Chris Is Away
Chris is away. The Defiant have Covid. The Titans go to five twice. And Omni & Jordan have all the fun.
5 months ago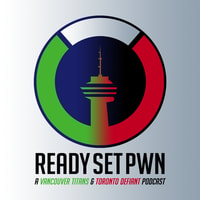 With Chris away for the episode Omni & Jordan break down the Vancouver Titans tough loss (in reverse sweep fashion) to the Florida Mayhem and their tough win against the Paris Eternal. They also wonder how the recent Covid diagnosis will impact the Toronto Defiant going into the post-season. Add in some commentary about the rest of the league, Overwatch League votes (and RSP getting in on the action), the difficult launch for Overwatch 2, and the usual hijinks that take place when Chris isn't around.
A huge shout-out to Burn7 on Soundcloud for the awesome track, Heroes Never Die Music used under a Creative Commons licence.
This podcast is powered by Pinecast. Try Pinecast for free, forever, no credit card required. If you decide to upgrade, use coupon code r-d07915 for 40% off for 4 months, and support Ready Set Pwn.