Episode 177: Defiantly Done
The Toronto Defiant got themselves to the playoffs. Unfortunatley that's as far as they were able to go.
4 months ago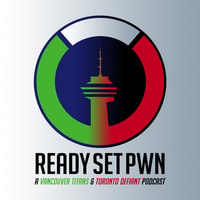 The Toronto Defiant set a goal to not only be competitive in the Overwatch League, but to take it to the next level during the stages & playoffs. Arguably they accomplished this. Unfortunately, their playoff run fell short as they lost both matches and were eliminated earlier this week. Chris, Omni, & Jordan discuss what went right and what went wrong this week for the team in the Six, and wonder who might wind up in the Grand Finals later this weekend.
A huge shout-out to Burn7 on Soundcloud for the awesome track, Heroes Never Die Music used under a Creative Commons licence.
This podcast is powered by Pinecast. Try Pinecast for free, forever, no credit card required. If you decide to upgrade, use coupon code r-d07915 for 40% off for 4 months, and support Ready Set Pwn.