Episode 163: Instant Session
The Los Angeles Gladiators continue to shock the competition, the Defiant tried to be defiant, and RUMOURS!
8 months ago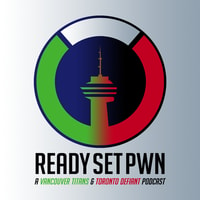 Because all the greatest news drops on a Wednesday, Omni & Jordan are left on a Tuesday night discussing what they think might be happening in the land of Titans and Defiant. The pair also recap why the Defiant fell short in the Summer Showdown, why the Los Angeles Gladiators remain so strong, and why GOATs that are dead may never die.
A huge shout-out to Burn7 on Soundcloud for the awesome track, Heroes Never Die Music used under a Creative Commons licence.
This podcast is powered by Pinecast. Try Pinecast for free, forever, no credit card required. If you decide to upgrade, use coupon code r-d07915 for 40% off for 4 months, and support Ready Set Pwn.