Episode 107: Locked Down Lyteforce
Lyteforce is locked down, the OWL season is only a week & a half away, and the crew talks eye emojis.
1 year ago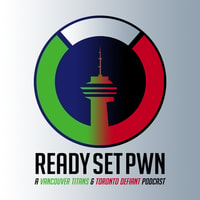 Chris is locked down. Omni is still recovering from the Power Rankings feedback. And the Overwatch League season is only a week & a half away. Both the Titans (minus Teru) and the Defiant have their players in town, and the Defiant are sharing news about the season kickoff spectacular. We also know who the OWL broadcast talent will be for 2021. And there be eye emojis. Again.
A huge shout-out to Burn7 on Soundcloud for the awesome track, Heroes Never Die Music used under a Creative Commons licence.
This podcast is powered by Pinecast. Try Pinecast for free, forever, no credit card required. If you decide to upgrade, use coupon code r-d07915 for 40% off for 4 months, and support Ready Set Pwn.