Episode 111: Fuel Fire and Shock Shook
The May Melee tournament combatants are set after a wild weekend of Overwatch.
1 year ago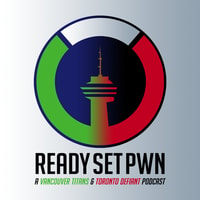 In a wild week of Overwatch League action, Chris and co-host Omni find themselves having more questions about the Toronto Defiant and whether the team is a gatekeeper or top-tier side. They also have questions on whether the Dallas Fuel are the real deal, if the San Francisco Shock are finding themselves mere mortals, and why all the Vancouver Titans mods are long-time members of the Ready Set Pwn community.
A huge shout-out to Burn7 on Soundcloud for the awesome track, Heroes Never Die Music used under a Creative Commons licence.
This podcast is powered by Pinecast. Try Pinecast for free, forever, no credit card required. If you decide to upgrade, use coupon code r-d07915 for 40% off for 4 months, and support Ready Set Pwn.