Summer Showdown Bonus - Day 4
The Toronto Defiant finally meet their match, while the Dallas Fuel & Shanghai Dragons win the respective Summer Showdown events.
6 months ago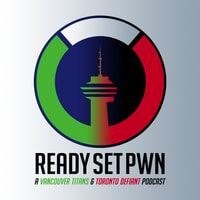 What a phenomenal weekend of Overwatch League action. The fantastic run of the Toronto Defiant finally comes to a close, the Dallas Fuel remain a dominant force, and it's not suprise the Shanghai Dragons remain tops in the East. Chris and Jordan recap the final day of the Summer Showdown in Toronto, with contributions from Defiant Head Coach Mobydik and the final press conference of the champion Dallas Fuel!
A huge shout-out to Burn7 on Soundcloud for the awesome track, Heroes Never Die Music used under a Creative Commons licence.
This podcast is powered by Pinecast. Try Pinecast for free, forever, no credit card required. If you decide to upgrade, use coupon code r-d07915 for 40% off for 4 months, and support Ready Set Pwn.