Episode 156: Unclutch and Stuffs
The Kickoff Clash is complete and the Vancouver Titans & Toronto Defiant both have new coaches.
9 months ago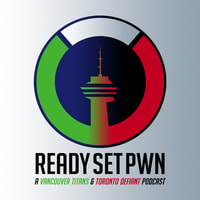 Shortly before our last episode went live, big Vancouver Titans news broke. Then we got to witness the Kickoff Clash and remember what it was like to have Overwatch League action played in front of a live & engaged audience. And if that wasn't everything, the Toronto Defiant decide to share some big news too. Chris, Omni & Jordan discuss the impact the coaching changes will have on BOTH of the Canadian OWL teams, what they expect from both going into the Midseason Madness, and if these changes are simply coincidental or a sign of things to come.
A huge shout-out to Burn7 on Soundcloud for the awesome track, Heroes Never Die Music used under a Creative Commons licence.
This podcast is powered by Pinecast. Try Pinecast for free, forever, no credit card required. If you decide to upgrade, use coupon code r-d07915 for 40% off for 4 months, and support Ready Set Pwn.