Episode 5: The Vancouver Titans
It's finally official. The leak we were the first to share with you is proven true! Omnistrife joins Chris to talk about the Vancouver Titans, the reveal event and a whole lot more!
4 years ago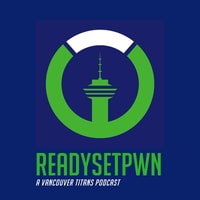 Episode Notes
Hosted by Chris (@lyteforce), the fifth episode of the Ready Set Pwn podcast has finally hit the internet.
Outline
We were the FIRST to tell you of the Vancouver Titans, the Sasquatch Logo, the colour scheme and the brand reveal date. And this past weekend, we were proven 100% correct! Join Chris & guest Omnistrife as they break down the franchise reveal, the reveal event itself, and everything Omni learned attedning the event!
A huge shout-out to Burn7 on Soundcloud for the awesome track, Heroes Never Die Music used under a Creative Commons licence.
This podcast is powered by Pinecast. Try Pinecast for free, forever, no credit card required. If you decide to upgrade, use coupon code r-d07915 for 40% off for 4 months, and support Ready Set Pwn.