Episode 134: Chaos Continued
Chris, Jordan & Omni find out it's easier to see who's signed to an OWL deal than who isn't.
1 year ago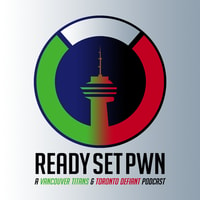 Last week we thought a few teams were choosing chaos in the Overwatch League. This week we learn that nearly every team is choosing chaos. Chris, Jordan, and Omni share there thoughts on what is going on with the league, why the Vancouver Titans finally decided to hit the reset button, who they foresee getting a shot in Vancouver & Toronto, and whether or not Overwatch 2 is actually a "different" game.
A huge shout-out to Burn7 on Soundcloud for the awesome track, Heroes Never Die Music used under a Creative Commons licence.
This podcast is powered by Pinecast. Try Pinecast for free, forever, no credit card required. If you decide to upgrade, use coupon code r-d07915 for 40% off for 4 months, and support Ready Set Pwn.