Episode 9: Official Titans Discord Bonus Episode
We're breaking news on the official Vancouver Titans Discord, Titans Merch and Titans Viewing parties!
4 years ago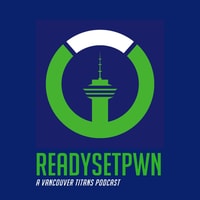 Episode Notes
Hosted by Chris (@lyteforce), the ninth episode of the Ready Set Pwn podcast has finally hit the internet.
Outline
Joining Chris to talk about the Vancouver Titans are co-hosts Omni (@OmniStrife) & Sam (@anothersamchan). They share with you breaking news of the official Vancouver Titans Discord server and how to get there! Not only that, they talk about the official release of Titans merch, the All-Access Pass on Twitch and why you should buy it AND where you'll be able to join Titans viewing parties all season long. Plus some chatter about the new map & changes on the PTR!
A huge shout-out to Burn7 on Soundcloud for the awesome track, Heroes Never Die Music used under a Creative Commons licence.
This podcast is powered by Pinecast. Try Pinecast for free, forever, no credit card required. If you decide to upgrade, use coupon code r-d07915 for 40% off for 4 months, and support Ready Set Pwn.