Episode 173: Mad Meta
Overwatch 2 has arrived, the Defiant & Titans both get a win, and the regular season is almost done.
5 months ago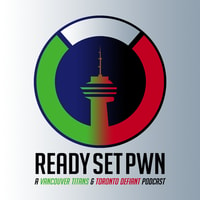 The Toronto Defiant look great one game, but not so much the next. The Vancouver Titans look better in one match, and even better the next. Yet one of those teams has eyes on the postseason, while the other has a couple of matches before their season is complete. Chris, Omni, & Jordan recap the weekend of Overwatch League action, react to Overwatch 2 going live and talk all things Pokemon.
A huge shout-out to Burn7 on Soundcloud for the awesome track, Heroes Never Die Music used under a Creative Commons licence.
This podcast is powered by Pinecast. Try Pinecast for free, forever, no credit card required. If you decide to upgrade, use coupon code r-d07915 for 40% off for 4 months, and support Ready Set Pwn.