Episode 110: Starving
Not only are the Vancouver Titans out of the May Melee, no one gets breadsticks.
1 year ago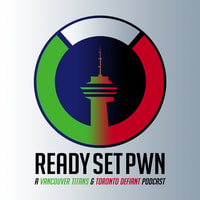 The Vancouver Titans are officially out of the May Melee, and no one even got breadsticks to soak up their tears. Chris and Omni recap what went wrong with the Titans, whether or not anything went well, and how they regroup. Thankfully there's still a Canadian team in the mix with the Toronto Defiant back in action, and looking at the match-ups, the pair wonder if a perfect stage record is possible - especially with a match against the Washington Justice to kick off the weekend.
A huge shout-out to Burn7 on Soundcloud for the awesome track, Heroes Never Die Music used under a Creative Commons licence.
This podcast is powered by Pinecast. Try Pinecast for free, forever, no credit card required. If you decide to upgrade, use coupon code r-d07915 for 40% off for 4 months, and support Ready Set Pwn.