Episode 166: Does Dpei Need Healthcare?
Chris & Jordan recap the Battle of Canada and why they are excited for both the Defiant and Titans
7 months ago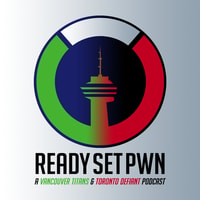 The first of two Battles for Canada is in the books, and it did not disappoint. Chris and Jordan discuss what they saw from both the Toronto Defiant & Vancouver Titans, and why they feel that performance - as well as their subsequent matches this past weekend - indicate potential awesomeness in the stage ahead. The crew also chat about Dpei's - Head Coach for the Vancouver Titans - now deleted tweet regarding some of his concerns with... things.
A huge shout-out to Burn7 on Soundcloud for the awesome track, Heroes Never Die Music used under a Creative Commons licence.
This podcast is powered by Pinecast. Try Pinecast for free, forever, no credit card required. If you decide to upgrade, use coupon code r-d07915 for 40% off for 4 months, and support Ready Set Pwn.