Episode 57: Kicking Off 2020
To kick off the 2020 Overwatch League Season, Chris, Omni & Sam chat with Lauren from The Game Haus to get a handle on the addition of Fissure & Ryujehong to the Titans.
3 years ago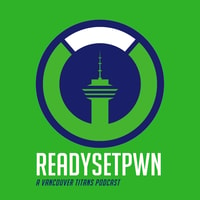 Chris and co-hosts Omni (@OmniStrife) & Sam (@anothersamchan) kick off the 2020 Overwatch League Season by talking to special guest Lauren (@daebakowl), writer for The Game Haus, about her thoughts on the Vancouver Titans newest additions, Fissure & Ryujehong! The crew also setup the Titans matches against the LA Gladiators & LA Valiant down in Dallas, and discuss the recent changes to Overwatch that came out shortly after the last episode went live. Plus all the usual trimmings you're used to!
A huge shout-out to Burn7 on Soundcloud for the awesome track, Heroes Never Die Music used under a Creative Commons licence.
This podcast is powered by Pinecast. Try Pinecast for free, forever, no credit card required. If you decide to upgrade, use coupon code r-d07915 for 40% off for 4 months, and support Ready Set Pwn.