Episode 54: Titans Insight
Chris, Sam & Omni discuss the Titans "locked in" roster before Chris sits down with Alfred de Vera of the Vancouver Titans to hear about the team.
3 years ago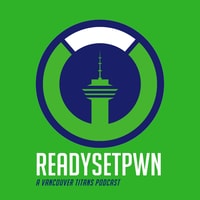 Chris and co-hosts Omni (@OmniStrife) & Sam (@anothersamchan) discuss the release of the "locked in" Vancouver Titans roster and provide thoughts on whether it's sufficient for the 2020 Overwatch League season. Chris then sits down Alfred de Vera, the Head of Communications and Team Operations for the Vancouver Titans & Seattle Surge, to hear about what the team has been up to and the plans for the season.
A huge shout-out to Burn7 on Soundcloud for the awesome track, Heroes Never Die Music used under a Creative Commons licence.
This podcast is powered by Pinecast. Try Pinecast for free, forever, no credit card required. If you decide to upgrade, use coupon code r-d07915 for 40% off for 4 months, and support Ready Set Pwn.