Episode 121: Stonks with RSP
Omni recaps a tough weekend for the Toronto Defiant, while Chris talks about investing in EGLX & OAM!
1 year ago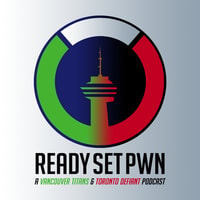 Chris and co-host Omni recap the rough weekend it was for the Toronto Defiant, and wonder aloud what casual fans of the Titans & Defiant get up to when the teams are given a month off between stages. Plus news the parent company of the Toronto Defiant is going public, which means Chris will have to invest so he can claim to be an "owner."
A huge shout-out to Burn7 on Soundcloud for the awesome track, Heroes Never Die Music used under a Creative Commons licence.
This podcast is powered by Pinecast. Try Pinecast for free, forever, no credit card required. If you decide to upgrade, use coupon code r-d07915 for 40% off for 4 months, and support Ready Set Pwn.