Episode 162: Madness in the Midseason
The Overwatch League Midseason Madness global tournament is underway!
8 months ago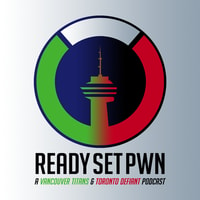 With the Overwatch League Midseason Madness tournament underway, Chris and Omni recap the Toronto Defiant's technology-challenged first match against the Shanghai Dragons before wondering how they'll match up against the Houston Outlaws. The pair also discuss their thoughts on the actual setup of the event and have some serious questions how other leagues have held international events in a manner that OWL cannot. Plus all the usual hijinks you expect in every episode.
A huge shout-out to Burn7 on Soundcloud for the awesome track, Heroes Never Die Music used under a Creative Commons licence.
This podcast is powered by Pinecast. Try Pinecast for free, forever, no credit card required. If you decide to upgrade, use coupon code r-d07915 for 40% off for 4 months, and support Ready Set Pwn.