Episode 151: Justin Time for 2022
Vancouver Titans GM Justin Hughes sits down with Team RSP to talk about the upcoming Overwatch League season.
10 months ago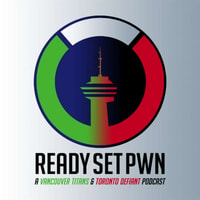 We're only a day away from the start of the 2022 Overwatch League season. With both the Vancouver Titans & Toronto Defiant back in action, Chris, Omni & Jordan are extremely excited. Yet even more exciting than their excitement is the fact Justin Hughes, GM for the Vancouver Titans, sits down with the crew to talk about last season, what they learned as an organization, and how they look to improve going into 2022.
Oh... he may also let the cat out of the bag about what the DPS meta might look like.
A huge shout-out to Burn7 on Soundcloud for the awesome track, Heroes Never Die Music used under a Creative Commons licence.
This podcast is powered by Pinecast. Try Pinecast for free, forever, no credit card required. If you decide to upgrade, use coupon code r-d07915 for 40% off for 4 months, and support Ready Set Pwn.