Episode 154: A Tale of Two Teams
While the Toronto Defiant stumbled over the weekend, did the Vancouver Titans actually turn a corner?
10 months ago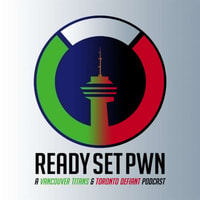 The Toronto Defiant had a slight hiccup over two matches, while the Vancouver Titans kept doing what they've been doing every weekend before. Plus the parent organization of the Titans has been called out by a shareholder (and it wasn't Chris). He, Omni & Jordan chat about the week that was in the world of the Overwatch League and tease a pretty phenomenal guest set to join them later this week.
A huge shout-out to Burn7 on Soundcloud for the awesome track, Heroes Never Die Music used under a Creative Commons licence.
This podcast is powered by Pinecast. Try Pinecast for free, forever, no credit card required. If you decide to upgrade, use coupon code r-d07915 for 40% off for 4 months, and support Ready Set Pwn.